KOTA SAMARAHAN, 28th November 2019 (SNN) : Universiti Malaysia Sarawak (UNIMAS) marked the last of the GoBald 2019 shave events with a total of 17 students and university staff went bald, by raising RM5,393, yesterday (27th November 2019) at DeTAR PUTRA, UNIMAS.
This was the second time for UNIMAS became a satellite shave since 2013 as an awareness and fundraising campaign for the Sarawak Children's Cancer Society.
According to Director of Chancellory and International Relations Office (UNIMAS Global), Tuan Haji Azlan bin Ramli, UNIMAS presence plays a very significant and impactful role to the state and community as we are the premier public university in Sarawak.
"As a community driven University, UNIMAS seeing this program as a platform for students to learn and involved in social corporate responsibility that organised by the university. Therefore, this kind of programs also seen to be an opportunity to produce well-balanced graduates from the aspects of academics and also ethics" he said.
Meanwhile, GoBald2019 participants received a commemorative t-shirt, wristband, thank you card and free photo print to remember the momentous occasion. Also SCCS brought merchandise for sale, an opened the sign-up booth for SCCS Monthly Donation Program where public could donate monthly to SCCS via an auto debit process from a minimum of RM30 and also an information panel on SCCS support services, and childhood cancer.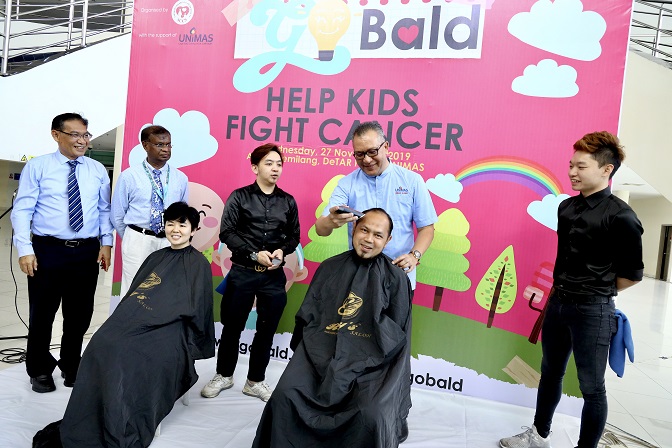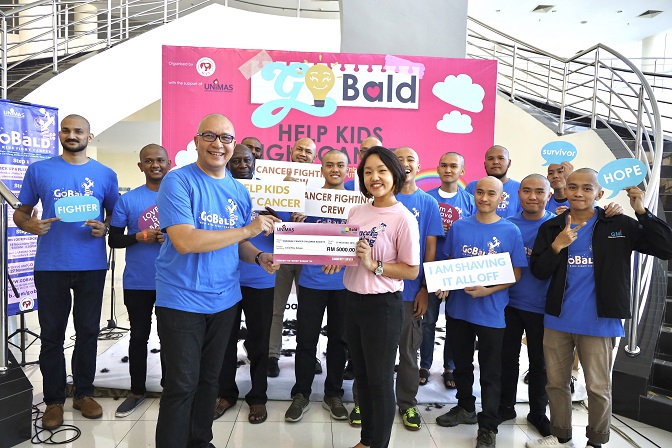 The GoBald event was launched in 2009, to share the message that act of going bald shows solidarity to children with cancer that they are not alone in this journey, and that hair loss is only a temporary setback on the journey to recovery. In addition, GoBald helps the society to raise funds to subsidize its annual operational cost of approximately RM1.5million.
Since its formation in 1999, Sarawak Children's Cancer Society (SCCS) has supported more than 1,350 children and their families through various services provided. Their services range from emotional support, the running of halfway homes in Kuching and Miri for outstation patients receiving treatment at local government hospitals, financial aids, training for medical staff, and various recreational activities throughout the year. With an average of 70 children diagnosed with cancer each year, not to mention the number of relapse cases, much resources and energy is invested to ensure sustainable support for SCCS for the care of children suffering from cancer and their families.
In 2019 to date, funds raised from the GoBald 2019 event have assisted the Society to refurbish the children's cancer ward in Sarawak General Hospital, upgrade facilities in Sibu Hospital, maintain the operations of the halfway home in Kuching at a cost of more than RM70,000, provided 41 families with financial aid totalling over RM70,000, and provided medical aid of more than RM300,000 this year, to name a few.
The event itself has went well with one female lecturer who went bald and the rest were male shavee. Also presence Faculty Deans, UNIMAS Officers, parents, students, pledge card holders, donors and volunteers as well.